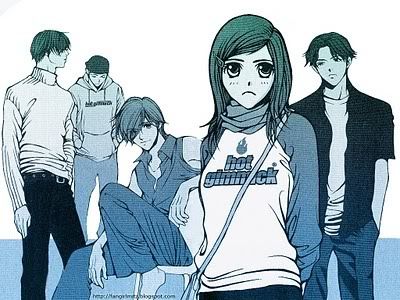 So, I read
Hot Gimmick
and have absolutely no one to blame but myself.
I'm going to spare anyone out there who hasn't already read this series the trouble: DON'T DO IT. JUST. DON'T.
Here is the Wikipedia summary of this garbage (highlight for light spoilers regarding the way in which this manga is a blight upon the world)
The story revolves around Hatsumi Narita, a passive sixteen-year-old girl who lives in a company housing complex that is ruled by the tyrannical Mrs. Tachibana, the wife of the company's vice president. How a family behaves in the housing complex can affect an employee's status in the company. When her promiscuous younger sister Akane thinks she might be pregnant, Hatsumi gets talked into buying her a pregnancy test. Unfortunately, things don't go exactly as planned and Hatsumi is blackmailed by Ryoki Tachibana, the arrogant teenage son of the powerful Tachibana family who bullied her as a kid, into being his slave.

The first volume of this series is mostly an introduction for all the characters and plotlines, and any possible readers of this series are warned that things do not stay as they seem for long.

The main male characters (Ryoki, Azusa, and Shinogu) all quickly swap places as the story continues on through the series. For this reason, Hot Gimmick is targeted much more at a mature audience, as it addresses several adult themes that are not entirely appropriate for younger readers; most pointedly, the normalization of an abusive relationship. Hot Gimmick delves into a deeper side found in every society, while still maintaining its shōjo roots.
Please note, I read this summary before starting the damn thing. I KNEW WHAT WAS COMING and I read it anyway. My thought process was basically "Oh, it can't be all that bad. SURELY things will get straightened out in the end." WRONG.
It's
shoujo
I told myself, mistakenly linking shoujo and romance in my mind. See, in romance novels you are guaranteed a happy ending. That's what makes it a romance novel. It can be
romantic
, but if any of that hero/heroine dies at the end nonsense goes down - BAM! NOT ROMANCE.
Also, I'd just read Sarah MacLean's
Nine Rules to Break When Romancing a Rake
which was just
fantastic
. I don't know that I've ever been so emotionally invested in a romance novel before, but I loved the main pair something fierce. The entire story was so fresh and fun, and I totally almost teared up at one point. Even if you're not a fan of romance novels, if you like good love stories, pick it up. It's a delightful read.
How quickly I forgot the garbage a read before that (Potent Pleasures, by Eloisa James) where I wanted to strangle the hero on multiple occasions for being such. a. massive. dick.
Normally, I don't read manga. Or, I'll read a few chapters or volumes and give up. The only series I'm actively following is
Kimi ni Todoke
. I think the only series I've read in it's entirety is
Peach Girl
. I never even finished
Fruits Basket
, which I loved, opting instead to just read summaries because I'm hella lazy.
So, what possessed me to pick this series up in the first place and then proceed to FINISH THE ENTIRE DAMN THING, is something I will never be able to explain (or defend).
( Spoilers for all 54 infuriating chapters (possible triggers) )
Excuse me while I go stab myself with a fork.