1. Moving suuuuuuucks. Especially when it's in the raaaaaain. But now I'm all settled and enjoying my much bigger residence. Still haven't unpacked my bedroom, but the kitchen, living room, and bathrooms (BATH AND A HALF, WHAT WHAT) are all set up. Plus I have cable and internet. It was a little dicey for a couple days. No serious withdrawal symptoms, but it still wasn't pleasant.
The cats adjusted to the move fairly quickly. First, I traumatized them by removing all the furniture from my old places leaving then with nothing but doors to take cover behind. Then I shoved them in the half bath while the house was being put together. But after yelling at me for a while and constantly walking up and down the hallway for an entire day they seem to have taken to the house. At least they haven't peed on anything
yet
.
2. Job hunting suuuuuuucks. Period. I have an interview Friday for a job I don't want at a place I used to work, but I think it'll be good practice. I haven't interviewed in years, so this will be a chance to shake the rust off and ~*~sparkle~*~ at an interview I actually care about.
3. I decided to drop Brighthouse and get AT&T Uverse, because everyone I know that has it is pleased PLUS I get free DVR and free HBO and Showtime for a few months. This works out perfectly since I plan on watching
Game of Thrones
(please to be fixing the rampant misogyny, HBO? *is eternally hopeful*) and I also wanted to check out
The Borgias
. I don't know anything about the Borgia familiy, so I'm taking in all kinds of altered history, but it's a lot of fun. And Lucrezia/Cesare! ...I'm going to hell!
4. Anime! After watching the
Kimi ni Todoke
movie it spurred me to watch the second season of the anime which was, of course, like all things Kimi ni Todoke, completely lovely. I'd read that far in the manga so I knew what was going to happen, but it was still very enjoyable. It's not as strong a story as the first season, but if you like KnT, it's not going to be for the plot, it's for the characters. And they are all wonderful, though it could have done with more Kurumi imho. Now I have several chapters of the manga to read! Excitement!
5. More anime!

jennekohan
suggested I check out
Hanasaku Iroha
, so I did, and I quite liked it. Our heroine is Ohana who, after her mom decides to run off with her boyfriend when he gives loan sharks their address, is sent to live with her estranged, onsen-running grandmother. Of course, her grandmother puts her to work immediately and her coworkers are less than enthused about her presence. But Ohana herself is hardworking and independent and when she stumbles she does her best to set things right. She's not all pure-hearted like so many anime/drama heroines. She's got a temper, holds grudges, and is fairly jaded beneath her smiling face, but I think she's great. I'm excited to see where the show goes and even if it just remains a simple coming of age story I'm pretty sure I'll enjoy it. The animation is nice and fluid and I'm really enjoying the muted color palette they're using.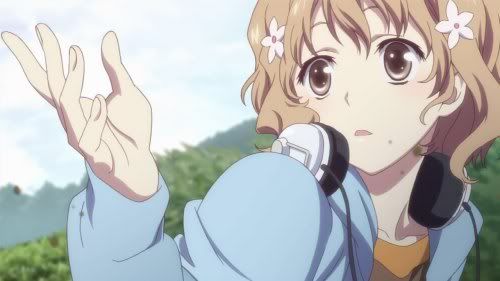 6. It's been a bit of a dry spell in the drama world for me. There were two shows I initially though I'd check out (
Midas
and
49 Days
) but never did, and now I doubt I ever will. I just haven't seen enough response in the drama community to spur me to get started. It actually worked out well, because with the move I haven't had a lot of free time.
But, that's about to change. Today is the premiere of
Manny
and I'm not sure why but I'm actually pretty psyched about this show. It's not the actors, since the only one I know is Choi Jung Yoon from her as the sour-turned-fairly-cool older sister in
Smile, You
. I guess it's the (partial) role reversal. I'm hoping it will be an
Oh! My Lady
done right.
The next Hong Sisters drama is shaping up to be pretty awesome. Despite not having seen her in anything else, I've managed to not hold
Hello, My Teacher
against Gong Hyo Jin. I suppose it's only fair since I gave Gong Yoo a pass for that disaster as well. I'm excited to finally see Cha Seung Won in something since I STILL haven't managed to watch
City Hall
.
Then there is
Lie to Me
which I'll watch regardless if it's a complete train wreck or not. I'm just hoping that Kang Ji Hwan isn't a complete prick in it. I could barely stand his character in
Coffee House
.
I... honestly don't know what's airing in Japan. Anyone hear of something good? I think I remember wanting to check out the getsu9 drama but I don't remember what it was called. The plot wasn't anything that intriguing but the cast was pretty sweet: Katori Shingo, Kuroki Meisa, Fujiki Naohito, and Naka Risa. I should probably look it up if I want to tag this entry...
Shiawase ni Narou yo
. And it starts next week! I hope someone is subbing it!