Day 2: Your Favorite Male Lead Character

Jang Taek-gi - The Vineyard Man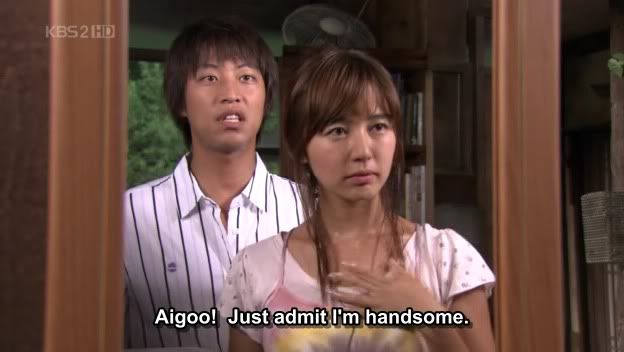 To those on my flist who haven't had the pleasure of watching
The Vineyard Man
, my choice may seem odd. There are a plethora of handsome, charming, funny, sexy, smart male leads dotting the kdrama landscape. And there are certainly many better known dramas out there, especially on Yoon Eun-hye's own resume. But I dare
anyone
to watch this series and not fall completely in love with Taek-gi.
Oh Man-seok himself isn't traditionally handsome, I'd be the first to admit that, especially with the horrendous haircut he's saddled with in this show. But Taek-gi as a character is so completely winning that by the end I was convinced I'd never seen a more attractive man.
Taek-gi is the country bumpkin (and secretly smarty-pants former scientist) to YEH's Ji-hyun, the spoiled city girl. He's plenty rough around the edges, but more than makes up for it with his loyalty, humor, and unfailing sweetness. He is slow to trust and quick to anger, especially when dealing with Ji-hyun who manages to push ALL his buttons, but once that facade starts to crack... It was hilarious watching him deal with all these ~*~feelings~*~ and nearly heart-stopping having to wait to get resolution on what I thought was a deliciously romantic story for such a silly drama.
UGH. I WANT TO WATCH IT AGAIN. Someday. I need to finish my recaps anyway.
TL;DR - I love Taek-gi and wish he was real.
( 30 Days of Kdramas )