I have two memes to offer you today. Want to know my opinions? NOW IS YOUR CHANCE.
First, one I stole from

shineaurorarose
. The
30 Days of Kdramas
meme.
Check out the list behind the cut
( here )
I can already tell you that for a lot of these I won't have clear cut answers. I'll just go with whatever pops into my head at the time. But I'll still do it! Besides, the first one is
easy
DAY 1: Your Favorite Kdrama

Capital Scandal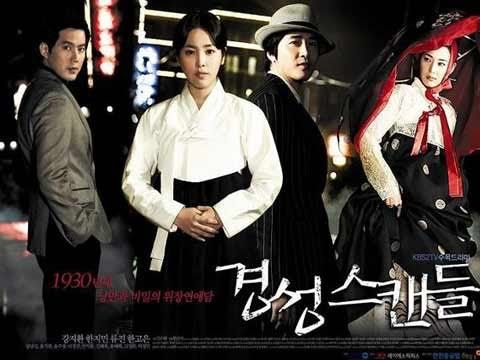 I doesn't take much for something to become a favorite of mine. It just has to contain
exactly everything that I love
.
Capital Scandal
does just that. It's funny, poignant, clever, exciting, romantic and possesses an excellent wardrobe and soundtrack. There wasn't a chance in the world that I would love this series. It's the same reason that
Utahime
is my favorite jdrama.
I've heard people snipe that it's too slapstick, which I honestly don't get. I've never been a huge fan of physical comedy (unless it's done
really well
) and I never had an issue with Capital Scandal. What is does have is a wonderful cast of characters who are strong and care about each other.
You'll laugh, you'll cry, you'll love it. And if you don't... I just don't know if we can be friends anymore.
ANOTHER MEME, this time from

beckerbell
:
- Comment with "Hit me!"
- I'll respond by asking you five questions so I can get to know you.
- Update your journal with the answers to the questions.
- Include this explanation in the post and offer to ask other people.
1. What attracts you to any given series, whether drama or tv or anime or manga, etc.?
- SEE ABOVE! :D
2. By the same token, what is an absolute dealbreaker in a series?
- I don't know that I have an absolute deal breaker, because there always seems to be an exception to the rule in a lot of cases. What it usually comes down to is if enough of the characters annoy me enough I'll stop watching, which is pretty subjective. There are things that annoy me sometimes, but in other instances I find tolerable. But I don't think there are any plot points or genres that really rub me the wrong way.
3. Which actors do you follow/would you watch a drama specifically for them?
- Right now I think the only one is Kang Ji-hwan. I watched
Exhibition of Fireworks
for that man and it nearly put me in a mental hospital by the end. But I'm not completely faithful since I seriously doubt I'll be touching
90 Days
with a ten foot pole. There have been a few western actors that I've watched some pretty terrible things for, like Nicholas Lea (Krycek of
X-Files
fame). I tracked down a bad Lifetime movie and watched
Xtro II: The Second Encounter
(DON'T ASK) for him.
4. What's the worst thing you've ever read/watched?
- This is pretty much impossible to answer! Usually my default answer for worst book is
Dive from Clausen's Pier
because I raged against the main character for the entire book. But it's not like it was poorly written, I JUST HATED HER. But I've read any number of bad romance novels (and usually finish them since I stay away from the Old-School romances as a rule after my first taste). I'm totally drawing a blank on tv/movies right now so we'll just go with something I just watched:
Tron: Legacy
. OMG SO BORING. I NEARLY DIED.
What is your absolute favorite series right now?
- EASY.
Parks and Recreation
. It so funny and off-beat and sweet. I'm incredibly happy I gave it a second chance.
ETA:
ALSO! I'm pretty bummed I can't watch
Best Love
on Viki. Who knows when WithS2 are going to get subs out D: