Went on a bit of a movie watching extravaganza this weekend and saw
The King's Speech
and
True Grit
, both of which are wonderful movies and I can't recommend them nearly enough. First up:
The King's Speech!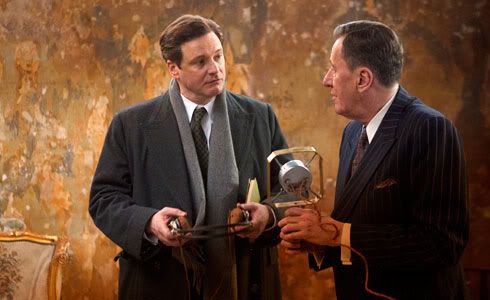 I saw this just in time, considering I randomly watched The Golden Globes last night. Normally I steer clear of awards shows because they tend to be a million hours long and never that entertaining. But I was working from home last night and wanted some background noise. I'd read that Colin Firth pretty much had the Lead Actor in a Drama category wrapped up and I couldn't agree more. He was
fantastic
as King George VI, and what a part to play! He had the perfect mixture of stoic (we're talking British royalty here), strength, and vulnerability. He was so human in his faults (temper, frustration, etc) and even knowing the outcome of the movie didn't detract from his speech at the in the least. Plus, I just loved the look of the whole movie. I read one review (Ebert?) that talked about how a lot of the sets were these long, narrow spaces that served as a sort of mirror to Bertie's struggle to get words up and out his throat. As a bonus, Helena Bonham Carter was a treat as his wife Elizabeth.
I guess it was rated 'R' because of the use of 'fuck'? It's not even used in a sexual context. Bertie blurts it out in a fabulous tirade during a speech therapy session. It's a shame if the rating is what keeps people from seeing this movie.
Next Up:
True Grit!
After I saw this movie I turned to my sister and asked her which she liked better: The King's Speech or True Grit. She couldn't decide. I'm not entirely sure of my opinion, because while I think The King's Speech is technically the better movie, I found True Grit slightly more entertaining. It's the one I thought more about when I decided to write this entry. Maybe simply because as a western there is more straight up adventure? I also think it's in large part due to Mattie Ross, the 14 year old girl dead-set on avenging her father's murder.
Mattie Ross is my hero.
( Here be spoilers )
Now, for some Golden Globes bitching. We'll move past the fact that True Grit got shut out, which I think is a shame. All three main parts were played to perfection, the dialogue was great (a much truer adaption to the book than the first movie, from what I've read) and the scenery and camera work was A+. Maybe it wouldn't have won, but it surely deserved some nominations.
Hate
that Glee won Best Comedy. Not only should
Community
have been nominated, at the very least
Modern Family
should have gotten the win over freaking
Glee
. Ugh. Though, oddly enough, I'm fine with the Supporting Actor/Actress nods that Chris Colfer and Jane Lynch got (especially because they had some of the best speeches of the night).
Even more than that - I can't accept that
Mad Men
didn't win for Best Drama. Now, I'm pretty biased here because I've never seen
Boardwalk Empire
, but Mad Men was AMAZING this season. Jon Hamm was incredible as Don Draper and had some of the meatiest material he's ever had on the show.
UGH, THIS IS WHY I DON'T WATCH AWARD SHOWS.